In English
Welcome to the official English Springer Spaniel Club of Sweden
Our club is associated with the Swedish Spaniel & Retriever Club, SSRK, and the Swedish Kennel Club, SKK. Feel free to make enquiries if you want to know more about our club or about the breed in Sweden. We will be happy to assist you by e-mail >> styrelsen@springerklubben.org
As a member, you receive the ESS Magazine four times a year. You are entitled to participate in any activities in the club or the local association organisation. Membership is continuous, one year from the date you pay the fee. Welcome!
To become a member of the English Springer Spaniel Club of Sweden, fill in the form >> here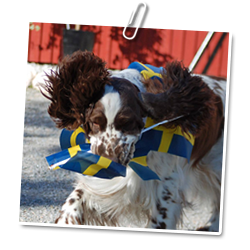 Fee: 
Foreign member: 350 SEK
Family member: 200 kr
NB – Sweden has NO puppy farms or dogs in pet shops!!!
Interested in an English Springer Spaniel?
Please contact our Breeding Committee by e-mail >> avel@springerklubben.org. They can provide information and advice on breeding and health as well as references. 
Bringing a dog to Sweden?
Pet dogs have to meet certain conditions to be allowed to enter into Sweden. What the conditions are depends on what country they are imported from. From January 2012 a new set of rules, all set by the European Union, apply for bringing dogs into Sweden. You will find useful and up-to-date information at Jordbruksverket's website (The Swedish Board of Agriculture). Click on the link >> Jordbruksverkets website.
Further information and application forms can be requested at: Jordbruksverket (The Swedish Board of Agriculture) 551 82 Jönköping, SWEDEN. Tel: +46 36 15 55 33, Fax: +46 36 15 08 18