Club Show 2019
Springerklubbens Club Show 2019-07-20    ÖREBRO
(104 vuxna + 13 valpar)
Domare: 
Hanar: Mrs. Jessie Boorregard Madsen, DK (35 st)
Tikar & BIR: Mr. Svend Lövenkjaer, DK (45 st)
Fotograf: Nina Jonzon
Tack för att ni kom till 

 Springerklubben Club Show 2019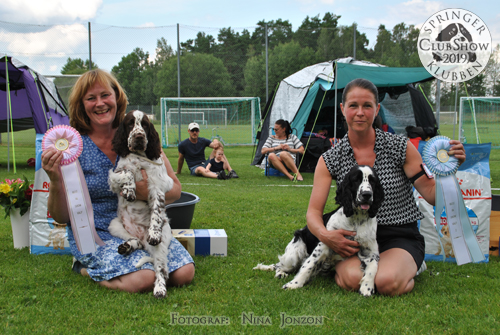 Art-Wave's Pimms O'clock & Belgarbo's Havnatindur
Valpklass I hanar: BIM-valp I   (4)
1, HP Winton It's Time
2, HP Beeline A Supreme Affair
3, HP Shame The Devil Tamaa
4, HP Lizziardhs It's Now Or Never
Valpklass I tikar: BIR-valp I BIS valp   (6)
1, HP Art-Wave's Pimms O'clock
2, HP Zkatans Heavens Fantasy
3, HP Yazzpeaks Bella Notte
4, Lizziardhs If I Can Dream
Opl
Baggbo Eg Elska Tig
Three Hill's Your Swedish Girl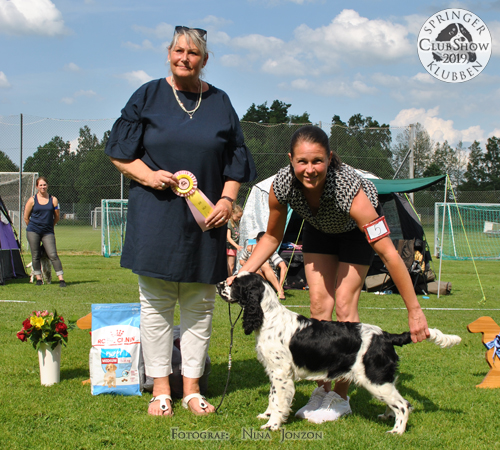 Belgarbo's Havnatindur
Valpklass II hanar: BIR-valp II   (3)
1, HP Belgarbo's Havnatindur
2, HP Fire'n Ice Star Wars
3, HP Belgarbo's Hofsjökull
4,
Valpklass II tikar:    (0)
1,
2,
3,
4,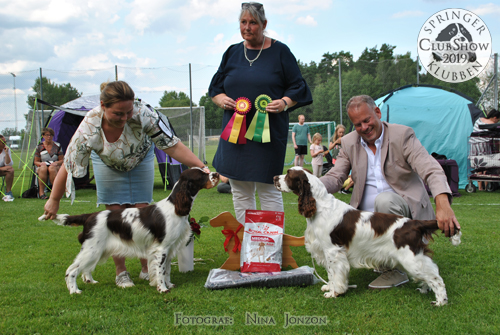 Winton State Of Art & Art-Wave's Bagpipes And Drums
Juniorklass hanar: BIM-junior   (9)
1, EX CK Art-Wave's Bagpipes And Drums
2, EX CK Astrospring's Satelite
3, EX CK Barecho Havin It All
4, EX Bjösi's Massey Ferguson
Opl
EX Bjösi's Look At Me
EX Cocoline I'm Your Darling
EX Quality Design Retro Is The New Old
VG Barecho Follow My Lead
VG Crazed Adventures Soul
Juniorklass tikar: BIR-junior   (14)
1, EX CK Winton State Of Art
2, EX CK Winton State Of Grace
3, EX CK Barecho Jackpot Joy
4, EX CK Belgarbo's Great Capella
Opl
EX Art-Wave's Her Royal Highness
EX Goldmoore's Match More Sweet
VG Adamant's Dreams 'n' Destiny
VG Belgarbo's Gomesia
VG Cloette's Lucky Feeling
VG Convent Springer Petit
VG Goldmoore's G Black Magic Magnolia
VG Ljungstorp Female One
VG Quality Design Rambling Roses Town
VG Springdust's Gorgeous Hera
  .
Unghundsklass hanar:    (7)
1, EX CK Barecho Bring The Gold
2, EX CK Big Brazzel Right Look Of Love
3, EX CK Albert Cruzon
4, EX CK Wildomar's Victory Dance Opl
EX Barecho Exquisite Brand
EX Glamorly Ginger Ale
EX Quality Design Only For Love
Unghundsklass tikar:    (7)
1, EX CK Lordsett Dolly Daydreamer
2, EX CK Wilmio's No Ordinary Girl
3, EX Lindcroft Olympic Odette
4, Wilmio's Nice Piece Of Art
Opl
EX Belgarbo's F Christmas Holiday
EX Goldmoore's Pardon Me
EX Hoffedalens Hedda
   .
Jaktklass hanar:   (2)
1, EX CK Finnlidens His Majesty
2, EX CK Hoffedalens Goliath
3,
4,
Jaktklass tikar:

  

(4)
1, EX CK Adamant's Over The Moon
2, EX Lizziardhs Victory Havasu Red
3, VG Merjanos Fridas Girl
4, VG Mountjoy Active Audrey
.
Öppenklass hanar:   (6)
1, EX CK Art-Wave's Cash In Hand
2, EX CK Adamant's You Know My Name
3, EX CK Hoffedalens Freddy
4, EX CK Zelini's Back To The Future
Opl
EX Starflames Cabrioletti
VG Mountjoy Ambitious Adair
Öppenklass tikar:   (14)
1, EX CK Lizziardhs Victory Bronze Mist
2, EX CK Art-Wave's Penny For Your Thoughts
3, EX CK Cloette's Couldn't Care Less
4, EX CK Hoffedalens Greta
Opl
EX Barecho Bling Bling No Way
EX Finnlidens Ice Inez
EX Klovstamons My Number One
EX Quality Design Loved Someone Really
EX Zkatans Mystar Fighter
VG Deming's Abby Art
VG Lost 'N' Found Frozen
VG Quality DesignMy WeekWith Marilyn
VG Salix Keep Ya Head Up
VG Yazzpeaks Appering Halo
.
Championklass hanar:   (9)
1, EX CK Art-Wave's Standing Ovation
2, EX CK Lizziardhs Valentino
3, EX CK Melverly Top Scorer
4, EX CK Astrospring's Orion
Opl
EX Art-Wave's Pop A Top Again
EX Big Brazzel Bungy Jumper
EX Deming's Arthur Art
EX Mountjoy Scallywag Sam
VG Mountjoy Ticklish Timothy
Championklass tikar:   (6)
1, EX CK Springtrend Silver Shadow
2, EX CK Spring Cheiz Palmira Happy Together
3, EX CK Barecho Xtra Sweet
4, EX CK Linmoor Hera
Opl
EX Art-Wave's Supernova
EX Lizziardhs Aberfeldy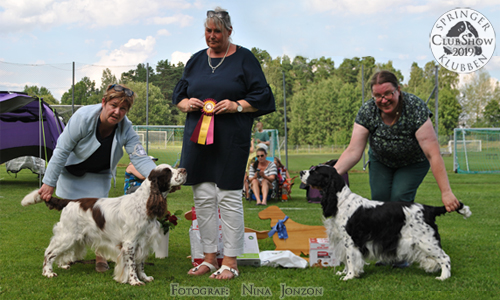 Ch Mompesson Escourt & Ch Mountjoy Painted Peggy
Veteranklass hanar: BIR-

veteran

 (2)
1, EX CK Mompesson Escourt
2, EX Creebay Ringside Rumour
3,
4,
Veteranklass tikar: BIM-v

eteran

   (1)
1, EX CK Mountjoy Painted Peggy
2,
3,
4,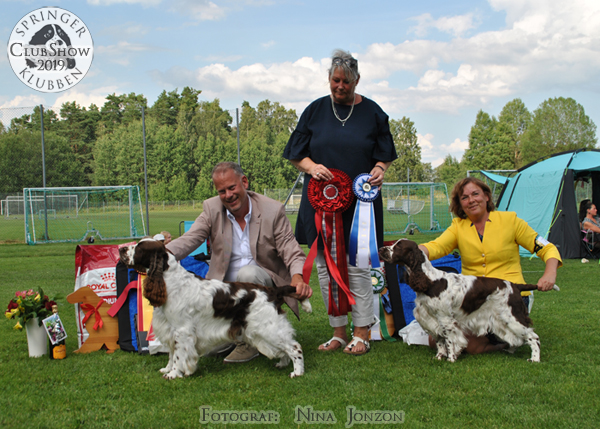 Ch Art-Wave's Standing Ovation & Ch Adamant's Over The Moon
Bästa Hane – Bäst I Rasen
1, Ch Art-Wave's Standing Ovation
2, Ch Mompesson Escourt
3, Ch Art-Wave's Cash In Hand
4, CERT Art-Wave's Bagpipes And Drums
R-CERT Barecho Bring The Gold

Bästa Tik – Bäst I Motsatt kön
1, Ch Adamant's Over The Moon
2, CERT Winton State Of The Art
3, Ch Lizziardhs Victory Bronze Mist


4, Ch Springtrend Silver Shadow




R-CERT Winton State Of Grace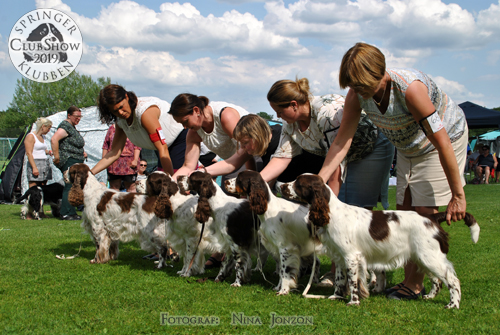 Ch Astrospring's Orion
Bästa Avelsklass
1, HP Astrospring's Orion
2, HP Mountjoy Scurry Simon
3, HP Barecho You Rock My World
4,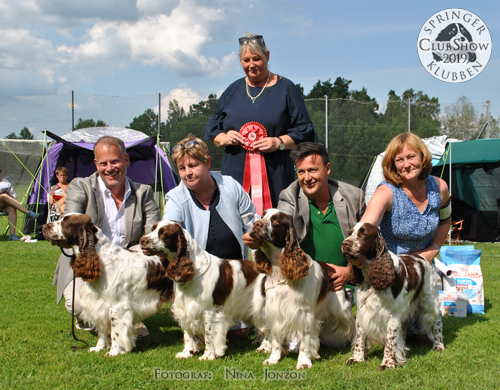 Kennel Art-Wave's
Bästa Uppfödarklass
1, HP Kennel Art-Wave's
2, HP Kennel Lizziardhs
3,
4,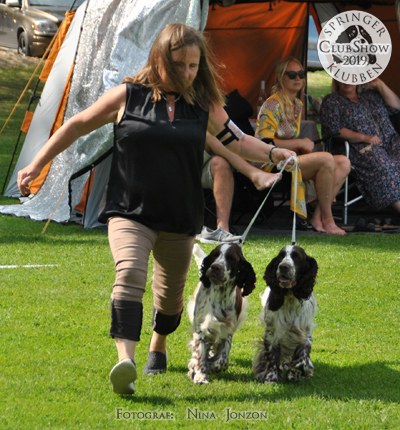 Bästa Par:
Quality Design Loved Someone Really
Quality Design Rambling Roses Town