Club Show 2021
Springerklubbens Club Show 2021-10-23–24 BÅLSTA
(44 hanar + 53 tikar + 38 valpar anmälda)
Domare: Annika Ulltveit-Moe
Fotograf: Veronica Forsberg
→ se valpar & hanar på Club Show 2021 här →
→ se tikar & finaler på Club Show här →
Tack för att ni kom till 

Springerklubben Club Show 2021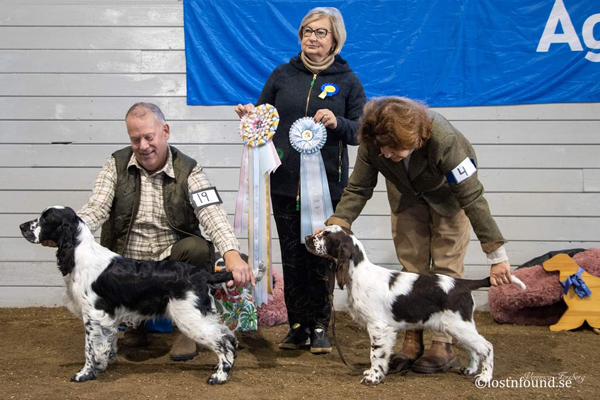 BIS Valp: Diamondback & BIS-2 valp: Goldmoore's Royal Connection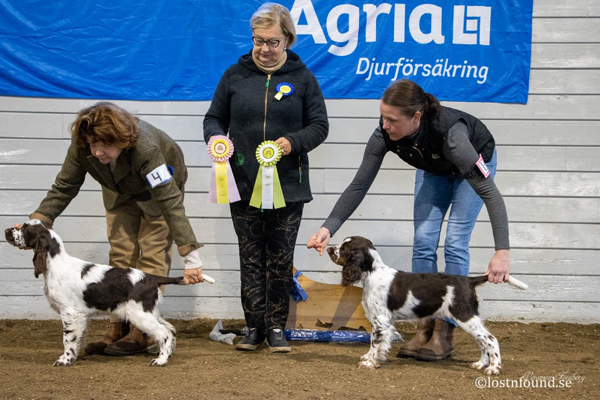 Bästa Valp I: Goldmoore's Royal Connection & Hoffedalens Kava
Valpklass I hanar: Bästa Valp I (7)
1. HP Goldmoore's Royal Connection
2. HP Art-Wave's Last Man Standing
3. HP Astrospring's Walker
4. HP Goldmoore's I Deserv It
OPL
Hoffedalens Karloz
Wilmios Ready Steady Go
Valpklass I tikar:   (10)
1. HP Hoffedalens Kava
2. HP Hoffedalens Katja
3. Astrospring's Vestra
4. Big Brazzel Love Of My Life
OPL
Dorph-Diamond's Lesedi Of North
Plumridge Celta Vigo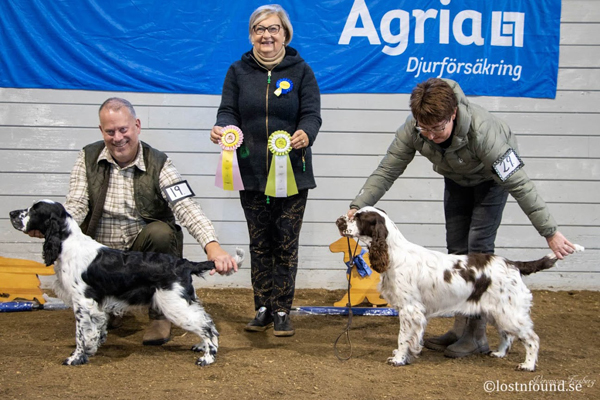 Bästa Valp II: Diamondback & Brandline's Lucky Charm
Valpklass II hanar: Bästa Valp II, BIS  (9)
1. HP Diamondback
2. HP Mountjoy Husky Hugo
3. Quality Design Watch Me Catch Fire
4. Mountjoy Hairy Hannes
OPL
Quality Design Want Cotton Romance
Quality Design We Used To Dance To
Rippeboets Enrique Mendoza
Valpklass II tikar:   (12)
1. HP Brandline's Lucky Charm
2. HP Zkatans Miss N Cash
3. HP Big Brazzel Knock Out
4. Mountjoy Heartly Hannah
OPL
Rippeboets Estrella Galicia
Springdust's Neat And Tidy
Belgarbo's Kronborg Slott
Lordsett Pina Colada
Mountjoy Honesty Hedda
Mountjoy Helpful Heidi
Quality Design Warm Champange
Rippeboets Xarel-Lo
Rosettasweet's Fröken Gullviva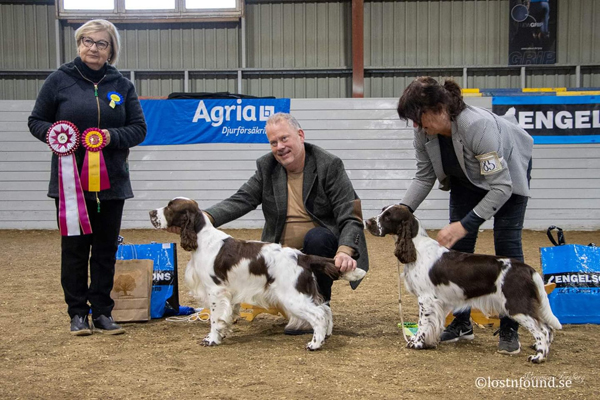 BIR Junior: Art-Wave's King Of Pop & BIM Junior: Barecho Victoria's Secret
Juniorklass hanar: Bästa Junior  (9)
1. EX CK Art-Wave's King Of Pop
2. EX CK Barecho Use Me Now
3. EX CK Cocoline On A Mission
4. EX Hoffedalens James
OPL
EX Zkatans Jolly Jumper
VG Barecho Way To The Stars
VG Hoffedalens Jozef
VG Mountjoy Genial Gilbert
VG Quality Design Viking Voyages
Juniorklass tikar:   (8)
1. EX CK Barecho Victoria's Secret
2. EX CK Lelica's White Shadow
3. EX CK Art_Wave's Bells Are Ringing
4. EX Mountjoy Glorious Greta
OPL
EX Art-Wave's Marchioness
EX Hoffedalens Jazza
EX Lost'n Found Karakin
VG Rosettasweet's Fröken Kanel
Unghundsklass hanar:   (12)
1. EX CK Belgarbo's J-37 Viggen
2. EX CK Cloette's Ain't Done Nothing
3. EX CK Daenerys Last Of The Starks
4. EX Big Brazzel Dolce Gabbana
OPL
EX Mountjoy Eligible Ecco
VG Quality Design The Sky Is The Limit
VG Rippeboet's Mr Selfridges
Unghundsklass tikar:   (8)
1. EX CK Cloette's Ain't No Saint
2. EX Barecho The Best Of Me
3. EX Searoads Keep Your Prosecco Please
4. EX Cloette's Ain't She Sweet
OPL
EX Mountjoy Faithful Fanny
VG Belgarbo's Jas 39-Gripen
VG Three Hill's Zweet Angel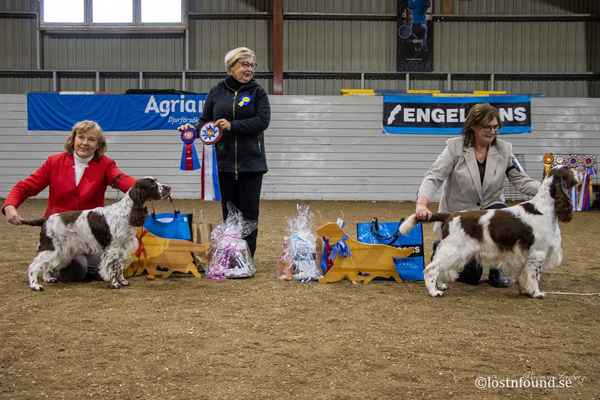 BIR Jakt: CH Adamant's Over The Moon & BIM Jakt: CH Finnlidens His Majesty
Jaktklass hanar:   (2)
1. EX CK Finnlidens His Majesty
2. EX Cool Moon Avendesora Poland
3. 
4.
Jaktklass tikar: Bästa Jakt  (5)
1. EX CK Adamant's Over The Moon
2. EX Mountjoy Veracious Velvet
3. EX Mountjoy Unclouded Unity
4. VG Mountjoy Charming Cayenne
Öppenklass hanar:   (13)
1. EX CK Barecho On Stadge Again
2. EX CK Astrospring's Triton
3. EX CK Art_Wave's Bagpipes And Drums
4. EX  CK Big Brazzel Zuper Smashing
OPL
EX Cloette's Ain't No Doubt
EX Glamorly Ginger Ale
EX Mountjoy Facetious Fabian
VG Belgarbo's Graffias
VG Belgarbo's Hofsjökul
VG Hoffedalens Goliath
VG Quality Design Only Here For Love
VG Rippeboet's Magic Rapid Wien
Obery's Enough Is Enough
Öppenklass tikar:   (17)
1. EX CK Goldmoore's She Belongs To Me
2. EX CK Art-Wave's Pop The Question
3. EX CK Yes Mans Daddys Girl At Barecho
4. EX CK Cloette's Sorry Not Sorry
OPL
EX CK Cloette's Lucky Feeling
EX Barecho Miss Knowitall
EX Hoffedalens Hedda
EX Hoffedalens Inez
VG Baggbo Babydoll
VG Hoffedalens Harriet
VG Lost'n Found Heart Of Gold
VG Mountjoy Blooming Becca
VG Mountjoy Dignified Denise
VG Rosettasweet's Lady Isolde
VG Zkatans Heavens Fantasy
Championklass hanar:   (6)
1. EX CK Art-Wave's Cash In Hand
2. EX CK Adamant's Don't Stop Me Now
3. EX CK Melverly Top Scorer
4. EX CK Lizziards Valentino
OPL
EX Lizziardhs It's Now Or Never
Championklass tikar:   (10)
1. EX CK Adamant's Keep The Dreams Going On
2. EX CK Goldmoore's Pardon Me
3. EX CK Barecho Jackpot Joy
4. EX CK Cloette's Couldn't Care Less
OPL
EX CK Lady Marmalade Tamaam
EX CK Lizziardhs Victory Bronze Mist
EX CK Winton State Of Grace
EX Barecho Whirl Of Luck
EX Wilmio's Key To Unlock My Heart
EX Zkatans Mystar Fighter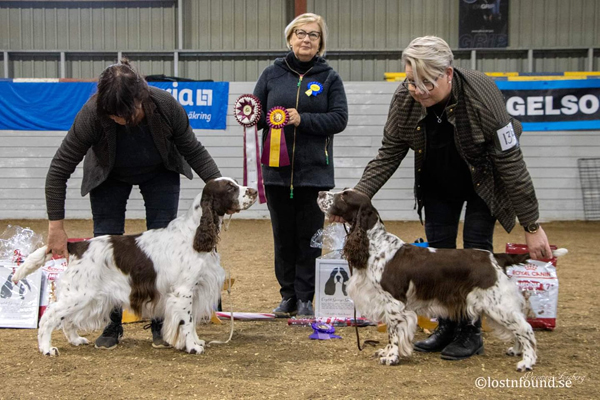 BIR Veteran: CH Barecho Play Now Pay Later & BIM Veteran: CH Lizziardhs Abberfeldy
Veteranklass hanar: Bästa Veteran  (3)
1. EX CK Barecho Plat Now Pay Later
2. EX CK Goldmoore's Hold The Line
3. EX CK Mountjoy Scallywag Sam
4.
Veteranklass tikar:   (5)
1. EX CK Lizziardhs Abberfeldy
2. EX CK Astrospring's Omega
3. EX CK Big Brazzel Hot And Wild
4. EX CK Hoffedalens Fia
OPL
EX Obery's Double Joy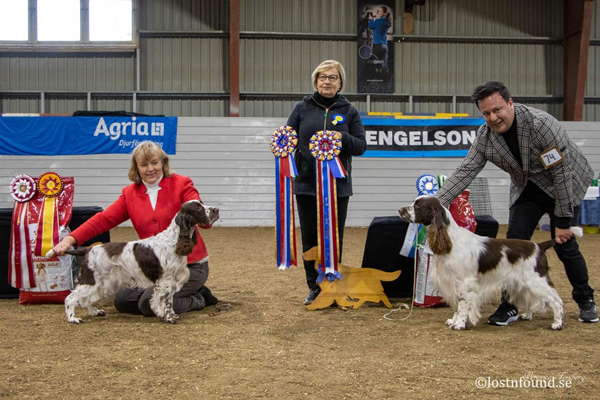 BIR: CH Adamant's Over The Moon & BIM: CH Art-Wave's Cash In Hand
Bästa Hane & BIM – Bäst I Motsatt kön
1. Ch Art-Wave's Cash In Hand
2. CERT CHAMPIONAT Adamant's Don't Stop Me Now
3. R-CERT Art-Wave's King Of Pop
4. Barecho On Stage Again
Bästa Tik & BIR – Bäst I Rasen
1. Ch Adamant's Over The Moon
2. CERT Goldmoore's She Belongs To Me
3. R-CERT Art-Wave's Pop The Question
4. Adamant's Keep The Dreams Going On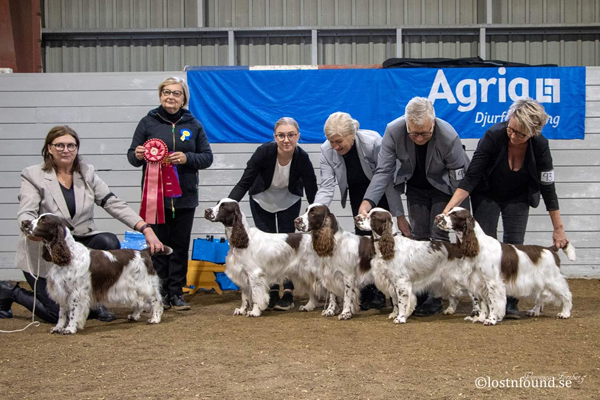 Bästa Avelsklass
1. HP Cloette's Couldn't Care Less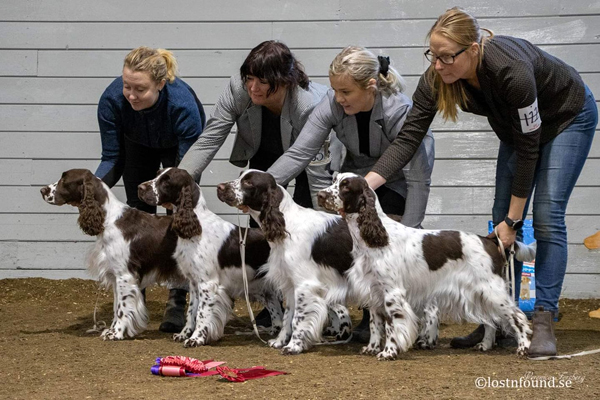 Bästa Uppfödarklass
1. HP Kennel Barecho, Helene & David Björkman & Jenny Andersson
2. HP Kennel Art-Wave's, Jens Karlsson
3. HP Kennel Cloette's, Lotta Glantz
4. HP Kennel Mountjoy, Monica Jansson